Vamvakou Digital Film Festival – Eighth Continent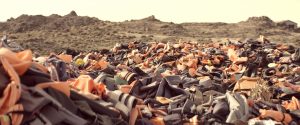 Film is unavailable now. The screening ended at 21/06, 19h00.
Concept: Yorgos Zois/ Directed by Yorgos Zois/ Cast: Pavlos Iordanopoulos/ Director of photography: Stelios Pissas/ Editor: Yannis Chalkiadakis/ Sound design: Alexandros Sidiropoulos, Aris Louziotis/ Music: Thaleia Ioannidou/ Compositing: Thodoris Zigkiris/ Camera assistant: Yannis Karabatsos/ Dcp – Colour: Grading Alexandros Kapidakis, Authorwave/ Producer: Yorgos Zois, Antigoni Rota/ Executive Producer: Christina Cironi/ Co-producers: Christos V. Konstantakopoulos, Stelios Kotionis/ Produced by Squared Square
Duration: 11′
Year of production: 2017
Country of production: Greece
In Lesvos island an old abandoned dump lies on a mountain with two big craters. The craters are overflown by thousands of life jackets from the refugee waves. A worker is the only inhabitant in this place that resembles an alien planet or a new continent.
How the film relates to the theme of the festival?
"I filmed this movie in Lesvos, at the village of Molyvos. There are two craters on the mountain and in them, the Greek authorities have thrown hundreds of thousands of life vests; as a result, the craters were flooded and a new setting, resembling an orange volcano, emerged. In a strange way, nature has transformed into a new landscape that has to do with "hospitality". Each life vest represents a human soul in search of hospitality in a new land. And, after all, in this cemetery of life vests on the mountain, the notions of nature and hospitality expand and lead the audience to associations beyond the anticipated ones." Giorgos Zois said.
Supplementary material (in greek)
https://www.lifo.gr/articles/cinema_articles/158337
https://www.kathimerini.gr/925077/article/politismos/kinhmatografos/mia-ogdoh-hpeiros-aposwsivia